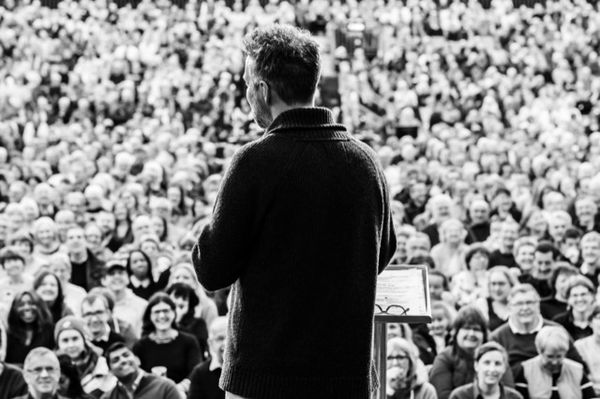 It has been amazing to see God, over the past 50 years restore worship to the British Church. 
During the 1960s and '70s worship in Church was very formal. Selected hymns were definitely seen and sung as a warm-up for the preacher and although those old songs sung with dedication could still move the hardest of heart, not much had changed for generations. 
Outside our four walls a cultural explosion was happening. worship leader and songwriter Graham Kendrick would later go on to say that his biggest influences were the Beatles and the Baptist Hymnbook. 
The charismatic renewal also happened, and many people were wonderfully filled with the Holy Spirit. Where the Spirit of the Lord is there is freedom (2 Corinthians 3:17) and with this freedom came a fresh creativity, confirming that whenever there is a move of God there is new music. 
New songs and expressions of worship started to spring up. These were mainly from the House church movement. Songs came from an overflow of hearts full of love for God and who He is. New events and gatherings would also be a catalyst for change in the Church. 
This included Spring Harvest, which gave profile and a platform for gifted worship leaders who were writing new songs and were sensitive to the Holy Spirit. 
One of these was Graham Kendrick, who would write contemporary hymns around the themes set for Spring Harvest, for example Servant King and Meekness and Majesty. These songs would become classics. Graham was growing in confidence in his calling to write modern Hymns for the Church and songs about what God is saying and emphasising now - especially to the UK Church. 
Another of the worship leaders was Ishmael, whose Praise Parties encouraged even more freedom with scripture verse songs full of joy and non-religious fun.  
Spring Harvest would be the place where many people first raised their hands, sang out spontaneous love songs to God and danced in worship. Graham would lead Jewish songs which sped up and found people dancing in worship before they realised, they were doing that! A whole generation was expressing itself differently with guitars, drums and dance. 
These were pioneering days from the first year's Spring Harvest gathering of 2700 people. The end of the eighties saw around 80,000 gathered and the Church coming together as one. What happened there influenced the British Church. What was seen and heard there became a model for many local congregations. 
The next generation of worship leaders were also inspired. Worship leader Martin Smith remembers… 
I was twelve when I walked into the big top at Spring Harvest for the very first time. I can still remember the feeling of electricity passing through my body as I heard this music from the stage and hearing 5000 people singing their hearts out.  Shine Jesus Shine was the anthem the saints were singing and that was the moment the church in Britain went from feeling small to thinking big. 
As the UK Church became more multicultural so has the worship. Church leader Philip Mohabir in his book Building Bridges, offered a prophetic challenge: 'Like the mustard seed in the parable, the black churches have grown into a significant force of Evangelical Christians with a spontaneity, vibrancy and dynamism that the white constituency needs. Imagine what power for good we could be in the hand of God, if both communities could combine their resources and provide a prophetic witness to a nation that is in desperate need. 
In these pioneering times, Graham Kendrick's band was joined by Noel Robinson and Steve and Velveta Thompson from the black majority Church, as well as Portuguese Trumpet player Raul D'Oliveira. 
Sons and daughters of the Windrush Generation had found their voice and taken their place. Noel, Steve and Velveta had become worship leaders themselves and alongside notably Mark Beswick and Geraldine Latty, would lead at many events. 
Currently, the fastest growing Church in the UK is the African Church, and this has become reflective in our worship. Anthems from Africa, such as Way Maker, are now sung by the global church. Our worship has been enriched by these songs of faith, intercession and joy. 
Our events are again providing a platform for the different streams and nations ministering together, reflecting and modelling the Church of many colours and cross-cultural collaborations and creativity. Kees Kraayenoord and the Mozaiek worship team are also bringing the unique flavour of the Dutch Church to our worship. Britain is being blessed by what God is doing in the Nations, bridges and relationships are being built. This brings pleasure to the heart of God and as He said He would God commands a blessing on our Unity. The UK Blessing recording and video were a beautiful example of this. 
We cry out 'Let your Kingdom come on earth as it is in heaven' and so with our worship, may we see, in our life-time, every tribe, tongue and nation worshiping together in unity on earth, as it is in heaven. 
Amen!