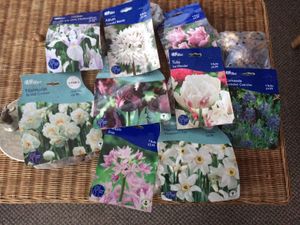 It is the season of Advent and I think this year it has been more poignant than ever. A time of waiting. A time of looking forward expectantly to something unfolding. A time when we look forward to the celebration of Jesus' birth and the hope He brings. If we ever needed hope we needed it this year! 2020 has been difficult for all of us and devastating for some. The uncertainty has made it a particularly dark season. 
I decided I would plant lots of bulbs in the garden this year exactly because the outlook seemed dismal, with no vaccines on the horizon at that time. I think I was determined to  plant them as a prophetic act, so that In the coming spring I could celebrate their dazzling colour as nature bursts into new life. Seemed important somehow and that hopefully a new life will burst forth for us too, with restrictions being relaxed as the vaccination process gets underway and we can begin to breathe again. Literally. 
Having hope is so important. So is not giving up.  
Les and I are so looking forward to celebrating Christmas, although it will be very different than usual. It is a time of wonder and joy as we celebrate the birth of Jesus with people we love. I was struck afresh today that after the angels announced Jesus' birth to the shepherds there was a multitude of the heavenly host singing 'glory to God in the highest and peace on earth and goodwill toward man'. Isn't it amazing that God's heart toward us is, and always has been, to do us good. 
I hope you have a peaceful blessed Christmas wherever you are and whoever you are with and that you will know God's goodness in new ways. 
Judith