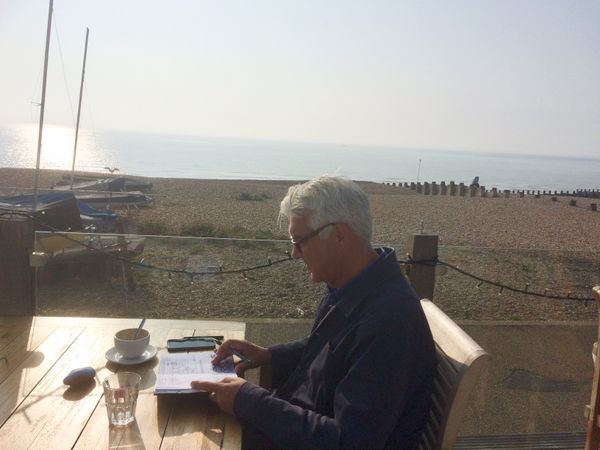 Space has been on everyone's mind these days. 
How much space to leave between yourself and others. Which space is a safe space. Who am I willing to share my space with.  
There are those of us who have felt lonely in our space. There are others who have been desperate for more space. 
Les and I like many, have had to adjust to finding a work space at home. In Les's case make this work spaces! Despite having a very functional office space upstairs with adaptations (blinds to stop the sun's glare on zoom calls and Internet extenders to maximise connection during said zoom calls) he seems to much prefer our front room, or back room and on occasions the conservatory. Although many conversations have taken place about the need for boundaries this is a topic we are still working through! Ring a bell?  
How wonderful it was then when his favourite office space opened up during the summer and he was able to walk to the end of the road, select a table, get a coffee and spend a few hours with his favourite view, making calls and plans and notes and amending priority lists. Or just reading. I swear he has been known to spend all day there conducting one meeting after the other!  
A while ago I found an advert for a coffee brand featuring a man in a cafe with a coffee a sparkling water, phone and notebook- it was scarily close to the set up Les has always used. It was called the third space- not home- not office but a different space allowing headspace and somewhere to relax, enjoy and in Les's case get organised for the day. It took me a while to realise how much space Les needs to think through things, to journal and allow ideas and dreams to develop and how intentional he is in making it happen.  
Maybe we all need that space but don't often take it. 
We have a couple of places we love to visit. Places where the landscape helps us to switch off. Our home is Les's workspace so we need to get away to unwind. We need that. Keeps us healthy.  
Psalm 18 says He brought me out into a spacious place; He rescued me because he delighted in me.   
In fact 'spacious place' is mentioned quite a bit in the bible. I think God has a spacious place for us even in difficult experiences.  
hope you have a space that helps you take a breath and listen and hear. Even in a worldwide pandemic!