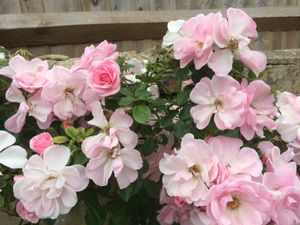 Covid 19 has turned many lives and livelihoods upside down and we will all be dealing with the aftermath to differing degrees for a long while. And yet, for Les and I in this corner of the Sussex coast we discovered much to be thankful for. Our usual fast pace of  living and working suddenly slowed right down and we embraced a new rhythm. A selah period. When we weren't allowed to travel anywhere, we welcomed our afternoon walks to the beach 5 minutes from our house allowing the ever changing contours and colours of the sea to inspire and refresh. A reminder of creator God speaking to us of His nature and character. It has allowed the precious gift of space and time to reflect, re-evaluate and realign as we have prayed and asked God for wisdom. Who would have thought that 2 of the most powerful projects Les has been involved in took place in lockdown when Les didn't leave the house! We have been thankful too for being able to keep in touch with friends and family via countless zoom gatherings. 
Amidst the decluttering and reorganising inside I have spent many hours in the garden growing vegetables and flowers from seed for the first time ever! I presently have 2 sorts of carrots, beetroot, lettuce, tomatoes, fennel, runner beans, peas and strawberries and a healthy assortment of herbs. I also have a lawn that has been devastated by an infestation of leatherjackets! Don't get me started! 
I have been amazed and delighted watching everything grow and my first job in the mornings whilst still in my pjs is to take a turn around the garden checking signs of new growth and removing snails. It is incredible to me that although we are 'on hold'  nature is in overdrive producing an array of beautiful flowers fragrance and form. The garden is full of the sound of birdsong, accompanied by the seagulls too, butterflies and bees busy pollinating. Another reminder that God is not 'on hold' but is abundantly generous calling us to  partner with Him to bring about His plans and purposes in our lives and communities. Our church family has been doing a study on the Holy Spirit and I have been struck by how the natural speaks to the supernatural, the visible to the invisible. As seeds and young plants are given the right environment to grow, right soil, position and watering, that's what they will do and likewise as we give ourselves the right environment to grow so we will produce good fruit. 
   
Psalm 1 from the Passion translation says:
   
   What delight comes to those who follow God's ways 
   They won't walk in step with the wicked 
   Nor share the sinners way 
   Nor sit in the circle of scoffers 
   Their pleasure and passion is remaining true to the Word of I am 
   Meditating day and night in his true revelation of light. 
   They will be standing firm like a flourishing tree planted by Gods design 
   Deeply rooted by the brooks of bliss; 
   Bearing fruit in every season of their lives 
   They are never dry, never fainting 
   Ever blessed, ever prosperous. (Or as the message says always in blossom) 
   
Let your 'blossom' speak to your community of God's love and faithfulness and invitation to them to come taste and see that the Lord is good. I like the sound of those brooks of bliss!