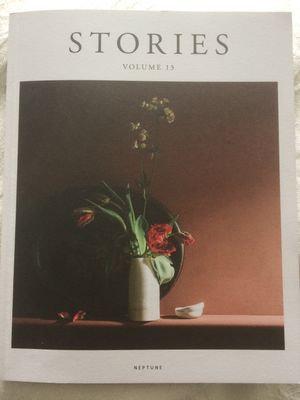 'It's a time of great hope as well as great change.' 
These words, from an aspirational lifestyle magazine from one of my favourite furniture stores, caught my eye particularly because they were actually being echoed at the online Christian conference I was attending. Weird! 
I read on.

'We want to look forward to focus on tales of courage and conquering'. Amen.  
          
'We want to honour the beauty of nature'. Amen.

'Never before has a friendly welcome been so important in our stores'. Note to welcome team!

'In this shifting world, our values mean even more'. Agreed.  Let's make sure everyone knows what they are!

'Home ..... the safety and solace we need, a trusted and unshakeable ground on which to stand'. Hold on! Now I appreciate and value how great design enhances our space and therefore our lives and a beautiful piece of furniture that fits perfectly into the space does bring me deep joy, but it's not the premise on which I build my life. 
It is indeed a time of change and after all that has happened some situations and people will never be the same. It's not all going to go back into the box the way it came out.  It's not going back to the status quo. I'm not sure God was ever a fan of the status quo! One of Les's favourite sayings is 'constant change is here to stay' and living in this kind of environment is definitely challenging. The truth is that God never changes, his character and attributes, His love for humanity and His desire that they 'come home to the Father' remains the same but His ways of doing things can and often does change.  
Les and I had to do the talk at our church zoom meeting the other Sunday about having a Spirit led life and I was challenged afresh how easy I find it to settle. Maybe it is a good call that we have joined the Pioneer movement as out of us two Les is more of a pioneer and I am more of a settler! I need that encouragement and provoking to keep getting out of the boat. To pay attention to that impression to pray for that person, to encourage someone, to be brave and say yes to doing something for the first time.  Doing zoom church from the ease of my front room and the cosiness of my sofa has been an interesting change but it's not good for me to get that comfortable. 
So we are reflecting on what our lives will look like as our communities begin to open up, what and who are we giving our lives to and a fresh look at how God wants us to do it.  In the words of the Bright City song, 'I can see a change coming', and I think it's time for another adventure!