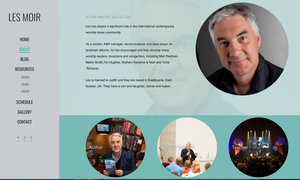 Those of you, who like to keep in touch with me will be relieved to know that I have just launched my brand new website. This will keep you informed about all my activities. I am looking forward to writing regular Blog posts and recommending Videos, Books and Music that I am enjoying.
My friend says "He doesn't want to die with the secret recipe",  and so I am hoping that through these recommended resources, I can pass on some information & inspiration.
Thanks for visiting and please take a look around the different pages of the site, which has been designed by our dear gifted friend Noel Richards. While here, please sign up to receive my Newsletter, using the sign-up form on the Home Page, so that I can update you personally.