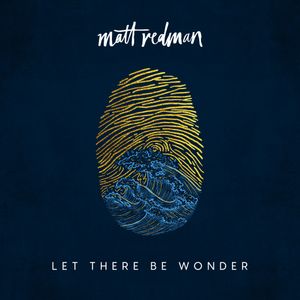 I remember meeting Matt onstage at New Wine. It was 1992 and I was playing bass guitar for Bryn Haworth who was leading worship. Matt came up from New Wine Youth to lead a song in the main venue.  What was he like? Well, he was shy but I heard enough in that one song to make me want to discover more about Matt and the way he led worship. Back in the Youth Venue I saw that God was at work there in ways that amazed me. 
Next year Soul Survivor started. A little under 2,000 people turned up for that first event, but it soon grew. The early 90s were an incredible time for God moving among young people, and Matt's songs were an important part of that soundtrack 
From playing bass on his first album - Wake Up My Soul - to being his A&R man for over a dozen other projects, I've worked a lot with Matt over the years. Watching his journey up close has been a real privilege.
So, with the release of his current album - "Let There Be Wonder" - I'd like to share with you my thoughts on the songs that most clearly demonstrate Matt's transition… 
Will Offer Up My Life, 1994 
This is the first song that Matt wrote that really went beyond Soul Survivor and out to the broad church. Matt was really influenced by the Vineyard Church in his early years, and you can hear that same intimacy expressed in this song. There's a sign of maturity in these lyrics, and it's one of the earliest - and clearest - demonstrations of his worshiper's heart. 
The song helped give him confidence as a songwriter, especially as it came after Matt had met with Kevin Prosch - an American worship leader who became highly influential in Matt's life. Kevin was able to help Matt see that he had permission to make the music that was in his heart.  
The song made it onto Matt's second album, Passion For Your Name, and it features a wonderful guest vocal by Paul Carrack (Mike and the Mechanics). If you've not heard it before take a listen to the outro and the way Paul sings the heart of the song: 'What can I give, what can I bring what can I give as an offering?' 
Once Again, Better Is One Day, 1995  
Even when he was young, people were often amazed at Matt's lyrical maturity. Once Again was one of those songs that just seemed to connect with churches, and even though Matt has written many songs about the cross, Once Again was his first major one on this theme. It became a favourite in churches at Communion services.  
Matt used his local church worship team to record the track for his third album, The Friendship And The Fear, but it was also about this time that he started to spend time with the Passion Student movement in Atlanta, USA. When they organised an event that called together a generation to pray for America, they chose Better Is One Day as the theme song for the event. This was the start of his relationship with sixsteps records. 
The Heart Of Worship, 1999  
The  story of how Mike Pilavachi made the Soul Survivor Church Worship team redundant for a few weeks is now legendary, as is the fact that from it came this wonderful poetic song. It resonated with worshipers around the world, calling them back to their first love.  
It's another song that shows great maturity beyond his years. Some people can spend decades chasing after the wrong things, but even though Matt was in his mid-twenties he'd already worked out what really mattered in life. 
That's why I've always loved the line "I'll bring you more than a song, for a song in itself is not what you have required." It was a brave thing to write for a young man who was beginning to get a reputation for writing great songs.  
Blessed Be Your Name, 2002  
I remember Matt first playing me this song in Kansas at the beginning of 2002. Life had not been easy: his wife Beth had had a series of miscarriages. Out of that pain they decided to write this song together. 
It introduces another key theme in Matt's writing: praising in God in the struggle, sticking with God throughout the storm, no matter what the situation. He and Beth went on to write a number of other significant songs on this theme, including You Never Let Go. 
Blessed Be Your Name caught lots of people's attention, including Tree63 (whose version went to number 1 in the States) and the Archbishop of Canterbury, Justin Welby, who chose it as the one song he would take as his Desert Island Disc.  
Here's a geeky fact for you: Beth's melodies tend to rise at the end of the line, whereas Matt's go down.  
You Alone Can Rescue, 2008  
It's not Matt's best known but I think it's probably one of the most important songs he's ever written. Why? Because this was Matt's first co-write with Jonas Myrin.  
In the years that have followed it has proven to be an incredible writing combination. It has enhanced Matt's ability to write poetic lyrics that are filled with just the right imagery, and this song in particular showed that Matt felt free to write in a more hymn-like way than before.  
Matt's come though his own childhood struggles. The lyrics perfectly sum up the kind of faith and trust in God that saw Matt through, as well as showing the extent to which Matt knew what God had called him to do. 
It has been quite remarkable that Matt has been able to sustain this level of songwriting for so long. Some songwriters hit a golden patch, which lasts a few years, but Matt's still going: twenty years after I Will Offer Up My Life we have 10,000 Reasons. It's been an amazing thing to observe. 
Our God, 2010 
Matt and Jonas knew that the bare bones were there but that it needed finishing. Thankfully Chris Tomlin and Jesse Reeves provided the finishing touches that helped make it more congregational, and producer Nathan Nockels came in with a great arrangement.  
This still resonates with the theme of praising God in the struggle, but there's a fresh confidence and boldness about it. It's a song that can be summed up in the declaration of the question: "And if Our God is for us, then who can stand against us?"  
This was the first song of Matt's to receive an ASCAP (American Society of Composers, Authors and Publishers) award for being in the top 20 songs played in America that year written by a British songwriter. He'd come a long way from the early days in Watford! 
 10,000 Reasons, 2011  
I couldn't leave this one out. It's the result of another amazing collaboration with Jonas, but even though the song came quickly, in a way it had been brewing for a while.  
I remember visiting Matt's house and seeing a bookcase of old hymn books. I knew that he was studying hard, trying to understand the heritage of hymns and working out how to join that to the knowledge of God has called him to do. 
If you've ever heard him give a seminar about songwriting you might have heard him teach about the verses of modern hymns: verse one looks at where we have been. Verse two explores where we are while verse three describes where we are headed. This works well and there's no need for a bridge. 
This is the model taken for 10,000 Reasons. And it works. I don't think that there's another song this decade that has resonated with the global Church like this one. From funerals to prison executions, 10,000 Reasons has helped to draw out praise in the midst of some of the most painful and fearful situations imaginable.